MAXI discovered a new source, MAXI J1810-222, on December 1, 2018 in constellation Sagittarius ( ATel #12254). This is a peculiar source which emits only soft X-ray below 4 keV. The 2-4 keV intensity was 20-40 mCrab. Looking back the MAXI data, the source appeared in the beginning of November. Such long-lasting soft X-ray source is unusual. It can be a neutron star binary in a low state, a bright blackhole binary at a far distance, or a new kind of X-ray source. Since the source locates close to the Sun with the separation of about 25 deg, X-ray followup observation is impossible with Swift and NICER. It is only possible with Nu-STAR, the hard X-ray telescope.
Nu-STAR carried out 25 tiling observations on Dec. 9 and confirmed the existence of MAXI J1810-222 ( ATel #12283). The position is better determined with an accuracy of 2 arcminutes (=0.03 deg.) The spectrum is similar to that of the soft state of a black hole.

MAXI has detected another new faint source at (272.6, -19.6) since the end of November (figure). Radio telescopes reported intense flares from the magnetar XTE J1810-197 on Dec 9 and 11 after 10 years of quiescence ( ATel #12284, #12285). Since the locations coincide, MAXI's source seems to be XTE J1810-197.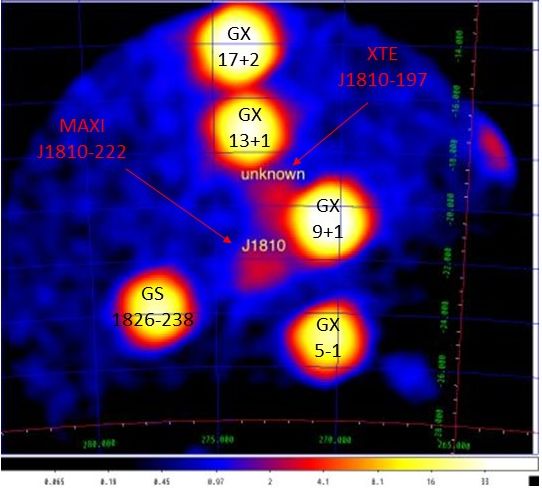 MAXI X-ray image of MAXI J1810-222 and aother new source. They appeared among 5 bright X-ray stars.