According to the large flux increase observed with MAXI/GSC during the giant outburst in 2012 November, the MAXI team requested Suzaku ToO observation. It was performed at the outburst peak from 2012-11-20 (MJD 56251) 14:44 to 2012-11-22 5:21 with an exposure of 50 ks. The MAXI/GSC flux was 400 +- 11 mCrab in 4-10 keV. The flux with Suzaku was 6.8 x 10-9 erg cm-2 s-1 in 2-10 keV, and 2.65 x 10-8 erg cm-2 s-1 in 1-100 keV. The luminosity was 8.0 x 1037 erg s-1 in 1-100 keV at the 5 kpc distance (Coe et al. 1994).
Our preliminary analysis of the Suzaku HXD/PIN and GSO data revealed that the spectrum can be reproduced by an NPEX with a cyclabs model with a reduced chi squared (dof) = 0.94 (127). The derived parameters of the cyclotron-line feature are E_cyc = 75.5 (+2.5, -1.5) keV, W = 4.0 (+5.4, -4.0) keV, and D = 1.6 (+9.4, -0.6) with errors of 90% confidence limits. The feature existed throughout the entire phase of the apparent 93.6257 s spin period. The E_cyc were 77.7, 74.7, 75.5, and 76.2 keV for the devided spin phases of rise, peak, fall, and valley of the pulse shape, respectively.
Suzaku spectrum does not show any signature of cyclotron-line feature in 20-50 keV range. Thus, the feature at 76 keV is considered as the fundamental cyclotron line. It corresponds to a magnetic field strength of 6.6 x 1012 G, which is the highest among binary X-ray pulsars ever observed.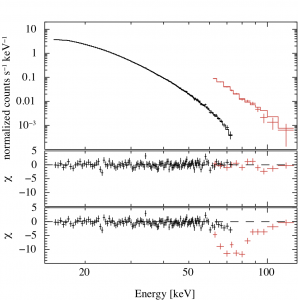 The spectra with Suzaku PIN and GSO fitted with a NPEX and cyclabs model. The residuals in the bottom panel are without cyclabs model.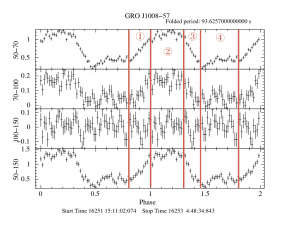 The pulse profile of GRO J1008-57. The pulse phases are divided into four phases : rise, peak, fall, and valley.